The annual VFUA golf day teed off on Sunday the 23rd of April at the delightful Ivanhoe Golf course. Perfect weather brought the best of abilities out in some but may have left others wondering what could have been with blue sky's, not a breath of wind and freshly cut grass providing the best of conditions for a strong field of 36 keen golfing fanatics.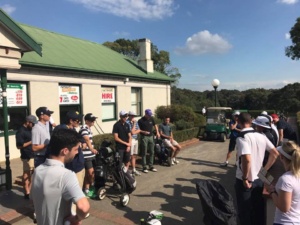 Two man Ambrose was the format for the day and as you can imagine with a bunch of umpires the topic of conversation prior to the first shot was rules, rules and rules!!
9 holes, 3 hours of banter, looking for golf balls and great company awaited and although the ladies markers situated 5m infront of the mens tee on the 1st proved to be a strong feat to carry for some (you know who you are), after a strong tee shot from Tom Chrystie, partner James Davey had ideas of slam dunking their 2nd shot of the day for eagle from 76 meters and made a clear statement to the challenges of their intentions early.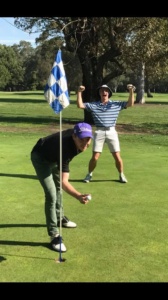 Unfortunately thats about where it ended for most PGA tour comparisons with more birdies on Aaron Langdon's shirt, Lachie Harty decided taking 10 minutes to hit every putt gave him the 'all the gear, no idea' approach. T-Rips white pants fitted the occasion and former VFUA member Tim Carlos who thought he would come along and caddy for Jack Edwards.
The winners by a half a stroke where Davey/Chrystie from the group of Langdon/Howorth who couldn't handle the heat in the kitchen and missed a 3m putt on the last for the victory. Shot of the day to James Davey and best clubman undoubtably to Michael Curtis. Despite their recent retirements from umpiring, decision making continued to be an issue for the duo of Hankinson and Lawlor who finished in last place.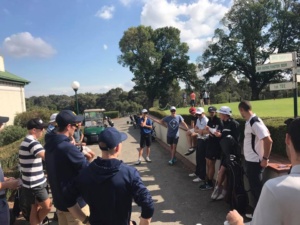 Thank you to all who attended and supported the event. A big thank you to those who helped organise the event in Nick Brown, Andrew Talbot and Kelly Tellam, their efforts in booking spots, advertising and running the day are appreciated and the day could not have been ran so smoothly without assistance. Thank you to Tyler Hankinson also for donating the prizes for the winners.