Saturday 5 August 2017 may not stand out to many people but it was the day that well-respected boundary umpire Andrew Leggo officiated in his 100th VFL senior match.  After arriving at Lulie Street in 2009, it was a great reward for Andrew to umpire the Round 16 Werribee vs Collingwood match on the fine turf of Etihad Stadium.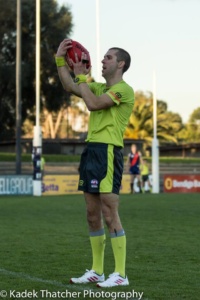 You only have to ask around the group and coaching staff to hear how hard Leggo has worked to achieve this milestone.  "My first recollection of Andrew was this bloke will never make it. He struggled at the back of the group and I thought this bloke won't last too long. Fast forward to 2017 and he has umpired 100 VFL games. It is a testament to the hard work and commitment put in from Andrew to get to where he is today" were just some of the stories heard in the boundary coaching theatre on the eve of the game. 
Andrew first got involved in umpiring at the age of 15: "A mate from school asked me if I wanted to join in as a part time job on a Saturday and as a way to earn some cash" Andrew said. Andrew took up his advice and started umpiring whilst playing football but it wasn't actually until 4 years later that he attended his first umpiring training session. "I went on to umpire over 100 senior games of local footy in the Mornington Peninsula region before I came down to trial at the VFL". "I spent 3 years on the development squad before making the senior list".
It was an unusual way that Andrew officiated his first VFL game: "I had umpired the reserves at Coburg's Piranha Park and straight after soon found myself running the senior game after one of the senior umpires had gone down with an injury" Leggo recalls. "My first official senior game was in my 3rd season at Box Hill where I was observed by one of the greats of boundary umpiring, John Summer".
With umpiring 100 games comes a long list of highlights and Andrew certainly has plenty of them. "My first time umpiring a senior game at Frankston was special as something I had wanted to do as a young umpire was officiate a Dolphins match in front of a big hostile crowd". "Umpiring my best friend Mark Baguley (current Essendon defender) whilst playing for the Bendigo Bombers is another good memory" he said. Season 2014 was arguably one of Leggo's best where he racked up many individual accolades. " It was certainly a memorable season, I umpired my first VFL final, umpired the Development League Grand Final as well as being awarded the most improved senior boundary umpire".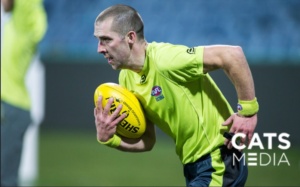 Umpiring VFL footy takes you to many different grounds and Leggo has umpired on quite a few. "All the road trips and overnight accommodation to places all over Victoria including Bendigo, Ballarat, Geelong, Shepparton, Swan Hill and Wangaratta have been good fun." On a lighter note there is one memory that sticks with Andrew pretty well. "In my first season we used to get given a dvd of some of our match footage and had to self assess. It's fair to say that Kevin Mitchell (previous head coach) wasn't too impressed when I handed in my assessment with a statement relating to a particularly good looking young water girl running past". 
Reflecting on the milestone means a lot to Andrew: "It certainly means a tremendous amount to umpire 100 VFL games . I've come a long way from the guy the local umpiring group were worried to send up. It may sound like the old cliché but just doing one game was the ultimate goal and anything else was just a bonus. I'm extremely proud to reach the 100 and I've managed to remain injury free throughout my career". 
Just like in 2009 when a young Andrew Leggo came down to trial, 2018 will see new faces invited down to Victoria Park and Andrew has some simple advice for the them: "You shouldn't underestimate how important recovery is. Whether that be the extremes such as a beach recovery session in the middle of winter or something as simple as a protein shake or stretching, it all counts. The best tip I could give is that you will umpire better when you are enjoying yourself". 
Off the field Andrew has enjoyed some important roles such as being captain of the senior group whilst also being in charge of the fines and Mad Monday. Andrew could be described as the "fabric" of a tight knit group and should be credited for making Victoria Park a fun environment on a cold winters Tuesday or Thursday night.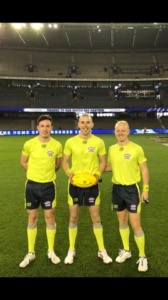 It's been a pleasure to catch up with Andrew and certainly a fantastic achievement in reaching 100 VFL games. Whilst he hasn't reached the ultimate high of the AFL, the selfless nature of Andrew says it all. "Making the AFL would be nice but seeing some of my best mates achieve their dream of umpiring at the top level makes it worthwhile knowing that I've had some influence along the way to help them get there."
Good luck for the rest of the season!