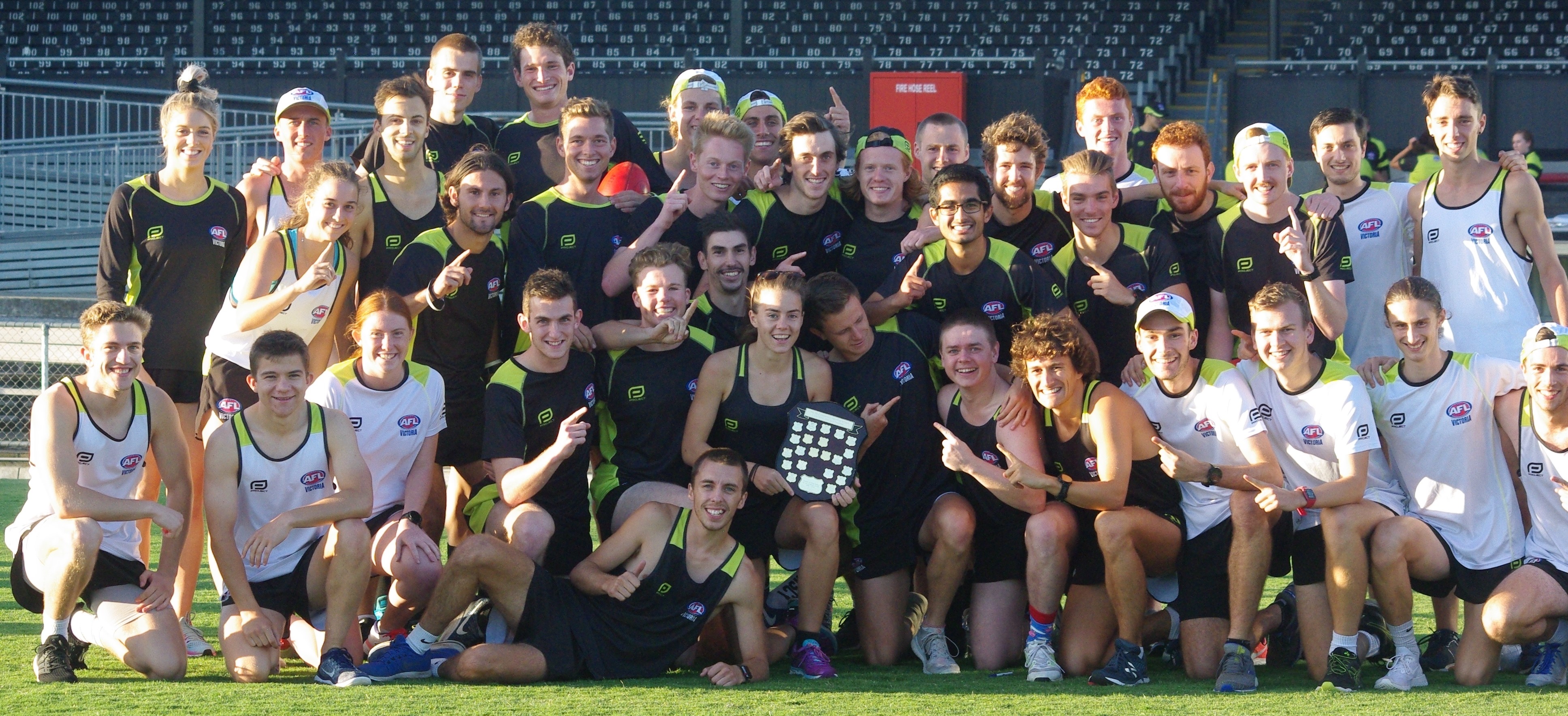 As per tradition, the annual Paul Anderson Mini-Olympics took place once again in 2019. An event that has been running for more than 15 years. The event took place on what would usually be a gruelling pre-season Thursday, normally filled with strenuous running reps, but instead the 21st of February was filled with compassion. On the flip side, the night was not without competition. Six squads clashed head to head as development and senior boundary, goal and field umpires fought it out for the overall victory.
Participants in the first few events were thrown straight into the fire. Quoits inside the fieldies locker room. Two team members from different groups took to the carpet, surrounded by umpires from all disciplines. Greta Miller looked to defend her title as most outstanding quoits player in 2018 and did so by defeating stalwart Tom Chrystie (T-rip) in a sudden death battle. Tunnel ball followed and was a bit more forgiving for those involved as participants were able to work in teams. A high standard of tunnel balling was displayed by all teams that weren't called development field, who finished woefully in last place.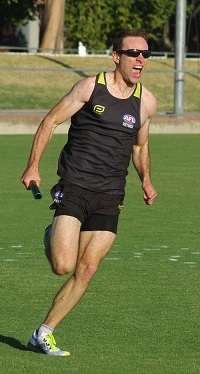 The lush green surface of Victoria Park opened up to us at 6.30 and it wasn't long until members of the 4x200m team were trampling it. Another year of controversy clouded the event as the handicapping system was once again off the mark. However, this did not stop Brenton Dickson from bringing home the win for development boundary – although we still aren't sure if he has located the correct finish line yet. Senior boundary was up in arms as they fiercely debated the integrity of the event, but there were no complaints from the development goalies who forgot how many athletes are required in the 4x200m race.
Soccer, also known as the participation sport, was up next. Masses of players took to the pitches and hacked away at a foreign circular object. All umpiring prowess went out the window as legs were chopped, bodies bumped and rules bended. Lachlan Higgs secured the win for development boundary in their first game. Not with a goal, but with an unsportsmanlike boot that sent the ball sailing out of bounds, taking any remaining time with it. A matchup between development and senior field ended in controversy, with Matt Young's senior team coming out on top. However, allegations of extra players on the field clouded the victory.
The pressure once again mounted as teams gathered to show off their 'bouncing' and 'throw-in' abilities, a nervous occasion for those who perform such acts on a day to day basis. For the others, it was an opportunity to show the pros up, and show them up they did. Senior boundary umpire Travis Taylor snatched the win away from the fieldies with an excellent bounce that achieved him maximum points. Unfortunately for goal umpire Jackson Griffiths, his bouncing ability did not match up to his ability to don some impressive glasses.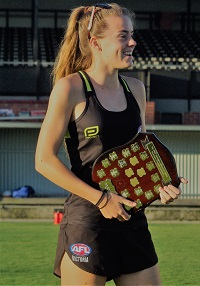 The goal-kicking competition was more relaxed this year, expect for invite for trial Darcy Trewarn who talked himself up big time before his attempts at the big sticks. Although he was not victorious, rumours of the overall victor were spreading, with development boundary looking like the runaway favourites. The result was confirmed and development boundary secured the win for the 2019 2019 Paul Anderson Mini-Olympics (Insert 'The Bev Show' quote here).
Following the events, it was great to see everyone grab a snag and come together in memory of Paul Anderson, a VFL umpire who lost his battle with cancer in 2001. The night raised over $1665 for the Cancer Council.
A thank you must now go out to the VFUA executive team for organising the event, as well as to AFL Victoria who have supported this event from the very beginning – happily helping out with set-up, BBQ and allowing us to have a training night to stage the event. See you all next year!