At the 2019 VFUA AGM the award winners for 2019 were announced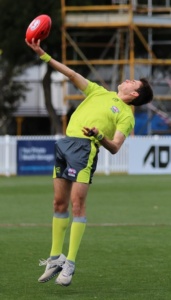 The association's highest award, life membership was voted on and Nick Brown, Simon Plumridge, Andrew Leggo and Dean Jones were successful.
The Best First Year Umpire Awards had been presented at the VFUA Ball in September: Shamus Dundon (F), Corey Malcolm (B) and Thomas Gath (G) were the nominees for the The Frank Leverett Shield. Awarded to the best overall first year umpire, Corey Malcolm was selected to receive the FLS for 2019
Most Improved for each of the senior squads were as follows:
Field – Luke Porter
Boundary – Matt Crowley
Goal – James Rizio
Congratulations to all.
Pic: @PicsByRossM