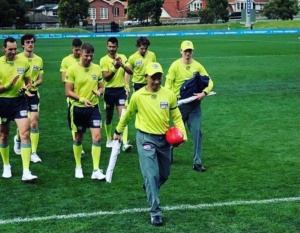 Resilience, determination and persistence are just some of the many values that embody recent VFL Senior Goal Umpire retiree, Cyrus Wong. Cyrus' 136 VFL Senior Games is an incredible effort spanning over a decade career at the VFL between the posts.
Failing the time trial in 2014 led to Cyrus embarking on a unique and physically demanding journey, that being running every current and defunct Melbourne train, tram and bus routes. This journey for Cyrus later led to him beating the time trial requirements and running those thousands of kilometres demonstrate his determination to overcome his previous challenges both physically and mentally.
I had the pleasure to run alongside Cyrus and former VFL Goal Umpire, Pete Balding in his final section of the public transport network which we will remember for many years to come. To see Cyrus' face and reaction at the end of this journey was priceless.
I also had the pleasure to umpire alongside Cyrus in his final VFL match, held at what I would call his home away from home, Whitten Oval. Remaining professional and competent all the way to the final siren, it was a humbling experience to be there in person and I was extremely honoured to have had Cyrus choose me for his final game.
All the best for retirement Cyrus and for your future endeavours away from the VFL world.
– James Rizio