It is with great difficulty that the VFUA wishes to advise former VFL umpire and observer Greg Sidebottom has tragically passed away.
Doing what he loved most, umpiring football, Greg suffered a cardiac arrest while umpiring in the country football match between Ardmona and Undera football clubs at Ardmona reserve.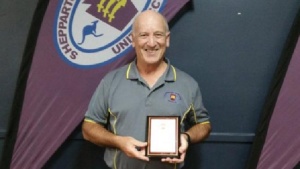 Greg was a Senior VFL Observer and a person who was passionate, engaging and was always smiling. Greg always told umpires to 'Have fun and enjoy the game', which reflected the way he umpired his football and lived his life. 
All umpires in the VFL and TAC Cup Competitions will wear black arm bands this weekend to remember him. 
Greg was a life member of the AFLUA where he was awarded Heritage number 298.
Our deepest condolences go out to his family and friends.
Rest in Peace Sidey.
Greg was a VFLUA member between 1977 and 1987.  He umpired 39 VFL matches between 1983 and 1987. 

Greg also umpired 23 VFL reserve grade games, 130 VCFL matches including 5 grand finals.  The 1983 La Trobe Valley, 1984 Wimmera, 1986 Farrer, 1987 Hume League and 1983 West Tasmanian grand final.

Greg was a member of the VFLUA Social Committee from 1984 until 1987.

He was made a life member in 1987.