I had the pleasure of sitting down recently with Simon Plumridge – milestone man and all-round top bloke – to chat to him about his career to date.
How did it all start?
I played footy until I was 13, but I wasn't much chop. I enjoyed going to watch my local senior team and I'd see the umpires and think that would be cool to do – a good way to be involved in the game and to earn a little pocket money. Then I saw an ad in the local paper, phoned the coach and got stuck in from there.
You're one of the fitter goal umpires going around. Have you always been between the sticks?
Yes, I've always been in the goals. It's the role that appealed to me most. Fair to say, I wasn't the fittest when I first started; it's something I really had to work on and apply myself at.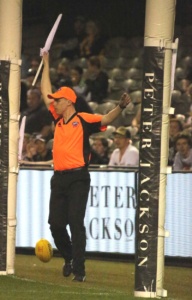 When did you realise that you could progress your career?
At the end of my second season, I umpired the Eastern Football League (EFL) Division Two Senior Grand Final. The match was tied at full time, so went into extra time. That really fuelled my desire to umpire in big games and I started thinking about and working towards coming to the VFL. The people who were most influential to me were the other goal umpires, who really encouraged me and inspired me. My first coach, Graeme Williams, was very important, too.
Describe your experience of trialling at the VFL.
I was very nervous and excited to get the chance to trial. The environment I stepped into was a far cry from where I'd come from – much more professional. I relished it and dove in. My first practice game was at Arden Street and I wore my local EFL top, as they didn't have any shirts for trialees. I buddied up with a couple of other first years, including current AFL umpire Dylan Benwell. We shared a lot over those first couple of years.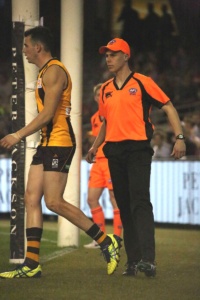 Speaking of Dylan, Leigh Keen once described both of you as 'once in a century' umpires. Give us your thoughts on this and also your bond with Dyl.
It's very humbling to be thought of in such a way by someone of Leigh's stature. An amazing umpire and person, Leigh was instrumental in my umpiring development. At the time, I was chuffed to receive such praise. Now I'm a little embarrassed by the label.
Dyl and I have shared a friendship since that first year in 2011. It's been great to grow and develop as umpires together over the years. I was stoked at the end of last year when he was elevated to the AFL; he's an extremely talented umpire and deserved his spot after his second Granny. At least he's living up to his label!
Who's been most influential on your career to date?
Leigh was outstanding when I first got to the VFL. Steve Stirling was another big influence in the short time before he was promoted to AFL Head Coach, and also David Flegg and David Dixon – the way they think about, coach and approach the game.
As for umpires, the people I've looked up to who've been very influential – Steve Piperno, Pete Balding, Michael Craig, the list goes on! I've got a lot of people to be thankful for.
What are the highlights of your career so far? The lowlights?
All the finals I've been involved in. The VFL Grand Final in 2015 is very special to me – a great day with a great panel. Also being involved in the 2016 State Game in Adelaide was a great experience. I'm lucky that lowlights are really few and far between. Missing most of 2016 through injury was very tough, but it's an experience I'm still working through and learning from. You get to meet so many great people through umpiring – funny moments involved spending time with those people. There are too many to count, although it's fair to say that games nights at training and Mad Mondays make up most of those moments of fun.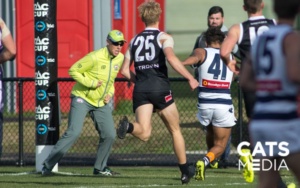 How was your milestone game?
It was a good day overall. I think the most special aspect of the day was the support I got from family, friends and fellow umpires. The game was a real arm-wrestle; players on both teams battled hard all day. The wind was certainly a factor and, in the end, Casey probably played the conditions better at their home ground [than the Northern Blues].
Whom did you pick to partner you in the goals for the day?
Sam Walsh. I've umpired with Sam for a long time – we umpired at local level for a few years and did a Senior Grand Final together.
Some quick-fire questions to finish off…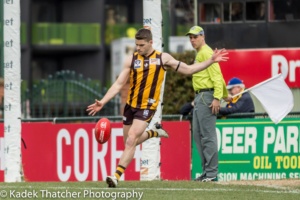 Best you've umpired with: I've had the privilege of umpiring with lots of great umpires – Dylan Benwell, Steve Piperno and Michael Craig spring to mind. The most consistent umpire I think I've ever run with would be Matthew Dervan – absolutely amazing.
Best coach: Four-way tie between Stirling, Keen, Flegg and Dixon! This may seem like a bit of a cop-out but I honestly can't split them. They were obviously all amazing umpires in their own right and just the knowledge and experience they bring to coaching is phenomenal. They're all very different coaches but have all had a big impact on me and my umpiring.
Best trainer: Another tie here – Dylan Benwell and Kate Griffiths. Both work really hard on their fitness and skills – and it shows. 
Funniest: I think Anthony Kyrkou and Callum Leonard, often featuring Chris Doyle or Sam Walsh, have proven to be funny over the years.
Strangest game day ritual you've seen: Having to show Cyrus that you've got a coin for the toss; Benwell and, more recently, Matty Edwards wearing their caps backwards before a game; Edwards again playing with a downball pre-game to warm up; and Doyley getting changed at the last possible moment.
Congratulations, Simon!
– Cyrus Wong