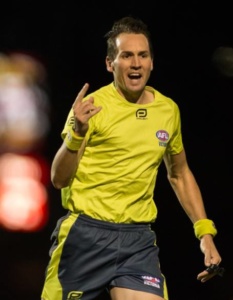 The human turtle, the PWS power ranger, the PE teacher, the current VFUA president. These are just some of the many identities by which Andrew Talbot goes.
Coming from the Diamond Valley Football League, Andrew joined the VFL in 2008, but not without his challenges. In 2006, Andrew was kicked off the track after the first training session of the year! After re-trialing in 2007, Andrew broke his foot in the pre-season and was forced onto the supplementary list. And then finally in 2008, Andrew trialed again, and as they say, third time lucky! Fair to say, Andrew never looked back, gained a spot on the development list and was then promoted to the senior list in 2009.
Entering his 11th season as a VFL senior umpire, Andrew has accomplished many things in umpiring. From his first senior game, Box Hill v Northern, to the infamous successful 'head count' when Frankston had 19 on the ground and their score wiped. That was almost as good as having his fifth senior match delayed due to a helicopter landing on the field during the reserves. But when speaking to Andrew about what he thinks of his own career highlights, he said, "One of my highlights involves sending an under 11 kid off for flashing his opponent at a set shot."
"I also got the chance to umpire an AFL match as a rookie after coming on 5 minutes into the second quarter. Round 3, 2014, North Melbourne v Port Adelaide. I couldn't hear my match com the crowd was that loud, it was surreal."
"Along with the 2018 VFL Grand Final the 2009 TAC Cup and 2017 AFLV Development League Grand Finals are obviously some of my most cherished moments."
It's the 27 March, 2018. It's list announcement night, and Andrew has unsuspectedly been chosen to don the number 1 guernsey for the 2018 season. With the previous season's number 1 having umpired the grand final and collected umpire of the year, the responsibility and expectations that came with wearing the number might have overwhelmed some. For others it might be a challenge, a motivator if you will.
It seemed that throughout 2018, Andrew had decided to choose the latter. In what seemed to be a flawless display of umpiring consistency throughout the 2018 season, Andrew had embraced all challenges and had his best season to date.
Hardly putting a foot wrong all year Andrew was rightfully chosen to umpire his first VFL senior grand final, collecting the umpire of the year award along the way too. Some have even said that his 2018 campaign as the number 1 was the best they had seen in recent times. They say a week is a long time in football, and what must have felt like an eternity to Andrew was the grand final week, from being named umpire of the year and being appointed to his first VFL grand final, Andrew was brought back down to earth having started the grand final with a recalled bounce, not your finest moment, Mr. Talbot.
Apart from umpiring, you may see Andrew post about a PWS power ranger, which is his alter ego. Andrew's work as the PWS power ranger is about raising awareness for Prader-Willi syndrome with which his good friend Jamie Grindal's daughter was diagnosed. Whether it be attending a PWS fund raiser in Sale, or running a full marathon in his orange morph suit, there's not too many people out there with the kindness and generosity to give up their time for others like Andrew.
What separates Andrew from a lot of others is his willingness to give up his time for the greater good of umpiring. Andrew is heavily involved with the rookie squad when they train at the VFL, along with always being a leading voice around the group and assisting his fellow umpires with questions they may have. Nothing is ever too much for Talbot, which makes him one of the most deserving blokes to receive VFL life membership.
From all of us at the VFUA, congratulations on reaching the fantastic milestone, a true reflection of a great career.