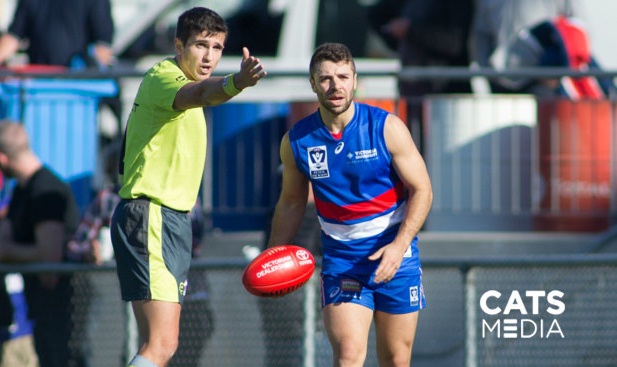 Michael Curtis, the only thing higher than his VFL senior games tally is the amount of kids he has.
Coming in from Noble Park, Michael started umpiring in the Dandenong juniors and Eastern Footy League as a way to stay involved post-football career. In 2009 Michael made his way to the VFL, where he spent a year on the development list before being promoted to the senior squad for the 2010 season.
Entering his 11th season at the Project Centre, I had the chance to chat with Michael about the high and lows of his career so far.
"For me the career high and lows have come from similar experiences. Out of my 11 years, I've been time trial champion 9 times, that's one of my proudest achievements. Of course, time trials aren't that fun when you lose, which I have on two occasions, so that's probably the career low for me."
Michael has done it all over the journey. Richmond v. Box Hill was his 175th VFL senior game, including a tally of 11 senior finals having umpired in the 2014, 2015 and 2018 VFL Preliminary Finals. Along with the 175, Curto has umpired 19 VFL Reserves matches including 2 grand finals, 23 TAC cup games which includes 3 grand finals and 4 AFLW matches, a sensational record for a very respected man. In 2010, Michael was awarded the most improved senior field umpire. He then went on to be awarded the 2013 VFL Umpire of the Year, and was an AFL rookie in 2015, a fairly impressive resume for any umpire.
Not only do we love Curto for his on field success and all-round good bloke charisma, the responsibilities he has taken on off the field stacks up very nicely against his on field work. From 2016 through to 2018, Curto did an outstanding job as the VFUA president, sacrificing many countless hours in order to get the best outcomes for his fellow umpires, a true team player. He was to be rewarded for his service by being inducted as a life member of the VFUA in 2018 and will go on to receive VFL life membership.
"I've been pretty lucky to experience plenty of good memories over the journey. Some of the best highlights are just training or running with mates in general week in week out. And the life skills you learn at umpiring are second to none. Some of the stand outs would be umpiring any of the grand finals, my first TV game, the annual mad Monday and of course, the after match feeds!"
"I do remember one day when umpiring juniors at Upper Beaconsfield, snow started to tumble during the game. I think I can still feel the cold to this day!"
At the end of it all, Curto will not only be remembered for all he has done on and off the field for the VFL and VFUA, but he will be remembered by his peers and coaches as one of the nicest blokes going around. It has been a pleasure to umpire with Curto on a few occasions, as everybody has found it.
From everybody at the VFUA, we wish the fastest man in the VFL all the very best. A deserving milestone that truly reflects everything you have done for the game.
Photo: Rob Geise