Sunday evening, 4 June saw the annual gathering of the VFUA life members at the Exchange Hotel Bourke Street, Melbourne. 
As well as the 'usual suspects' who attend every year we had the welcome return of Lindsey Hardman who was in Australia for the first time in a while and the delightful addition of Sue Sambrooks, boundary track rep Melissa's mum. While there were a number of apologies this year Richard Mills please check your calendar more carefully in future – we missed you.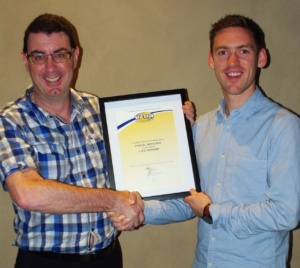 The dinner marked 20 years as life members for Judi Elliott, John Hall and David Flegg but was the first for newly inducted 2016 life member Daniel Butcher. Daniel's terms as track representative (2012), communications officer (2013), vice-president (2014) and president (2015) indicate his outstanding service to the VFUA through almost the entirety of his time with the VFL and he spoke eloquently about what life membership meant to him.
Equally worthy of the honour a last minute difficulty meant Daniel Pieper was unable to attend and will be presented with his certificate and badge at a future date.
The range of umpiring and football related activities and involvements still undertaken by VFUA life members gives further indication of how much their commitment to the association is an extension of their commitment generally. From trainers, long-serving community umpires and administrators, coaches and observers to even statisticians they continue to give passionately to what they love.
It serves as an excellent example to the current VFUA Executive Committee who were also in attendance and were able to connect with a life members and hopefully take away some of their experiences for consideration. The VFUA has always attracted the best, the brightest and those who most want to make some sort of difference to the umpiring experience and the Life Members' Dinner is a celebration of those qualities.
Thanks go to David Flegg for his (somewhat laissez-faire) organisation of the night, to Nick Brown for his 'State of the VFUA address', the Association for its subsidy of the catering and to all who attended to make a great night!