The poker world has crowned a new champion! Saturday was the biggest night of the year for VFUA poker players and fans – the annual VFUA Poker Night.
When the last river card was dealt, Sam Walsh held all the chips. Walsh earned a trip for two to Bali for first place and now holds the most coveted prize in poker, the Poker Deluxe VFUA Champion trophy.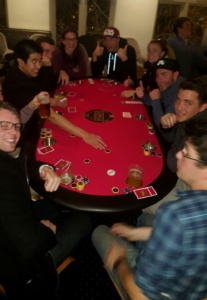 The victory puts Walsh in select company in poker history, placing him alongside legend of the game, Simon Blight. After the event, 'Walshy' was the picture of humility. One of his first remarks in the post-tournament press conference was his shock win. He was then straight on to the phone to start the bidding war between close friends to see who would join him on his tropical holiday.  Sam defied all the critics with this win, with his biggest critic, fellow goalie, Kate Griffiths, declaring, "I thought Sam would be one of the first out on the final table!"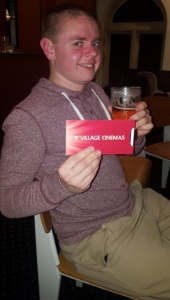 When the final table of 9 began, each discipline was evenly represented. Chris Doyle and Pete McCaw were the first to lose their chips when taken on by Andrew Talbot. Mel Sambrooks started with the least amount of chips, but won an important hand to keep her going. Liam Pain started a new poker term, the Painy; an automatic $2000 bet regardless of the minimum bet. Sambrooks was the next to go, and the next elimination would be hard to come by as still one would miss out on the much fought after prizes!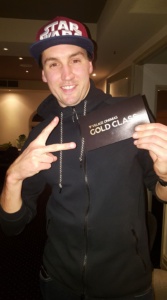 Walsh had a couple of close scares of an early exit, but managed to survive as Griffiths was unable to survive till the final 5. Painy took on two too many hands, matching an all-in, then going all-in, against a pair of Aces on both occasions, leaving him in 5th for a set of movie tickets. Walshy and Adam Bell went toe-to-toe, leaving Walsh in a strong position. Belly, Pain's mate and Talbot went all-in, with the latter taking the hand and leaving the tournament with two competitors left.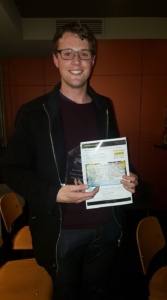 The final two exchanged pleasantries, talking about their nerves and rise in heart rates. But it didn't take many hands for Walsh to wrap up the night and the trip!

Thanks to Kelly for putting on the night and to those that attended to make the night an enjoyable one for all.