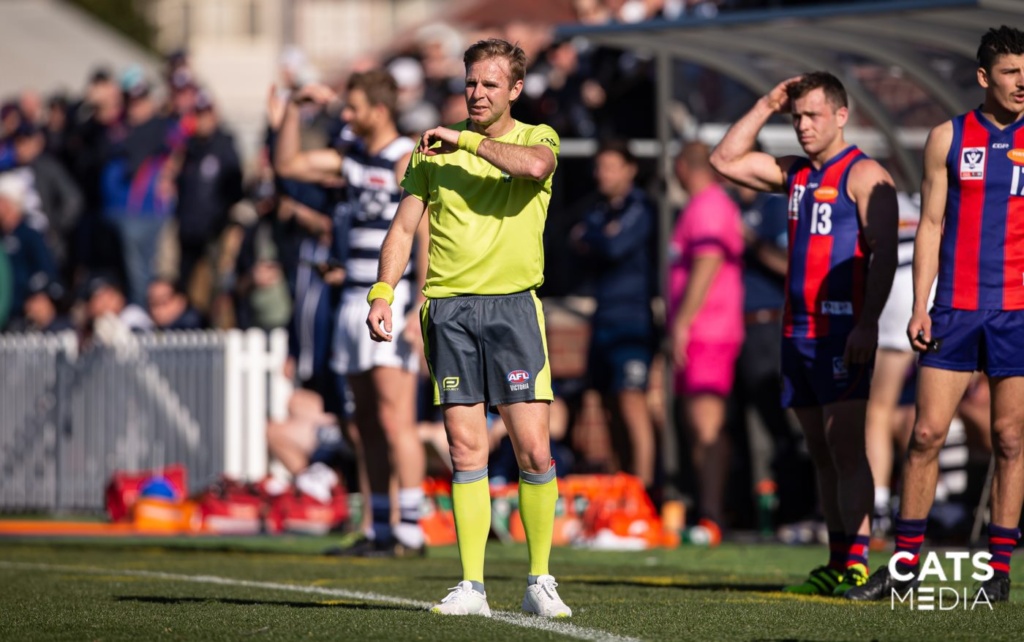 Adam Bell – 150 VFL Matches
Adam "Ding" Bell started umpiring at the VFL in 2009, which means he's been gracing Victoria Park with his presence almost as long as Johnny Summers. In the days of Coach Vitiritti, Belly was in charge of navigating the correct footage during coaching, which was shown on a projector via a DVD player. This alone meant that he provided more valuable input than a number of people in that coaching room.
Belly spent three years on the development list before being promoted to the senior panel in 2012 doing his first game with Matthew Tomkins and Brenden Elvey. This means Belly has spent over a decade umpiring VFL senior football. This type of longevity is extremely rare at VFL level, particularly in the boundary discipline and is a sign of the commitment that Belly shows towards umpiring.
To explain how long that's been, close mate with Belly, Lokky Harty has started umpiring (2009), stopped umpiring (2011), started umpiring again (2015), stopped umpiring again (2018) and started coaching (2020) all at the VFL level.
Continued hard work has seen some great success for Belly, filling his career to date with great moments and fantastic achievements. He did his first final in 2014 and aside from when COVID meant there were no finals at all; Belly has umpired minimum of one final in every year since.
Reaching a ranking as high as number five at the end of the 2016 season, Belly was only one step away from getting the VFL grand final in both 2015 and 2016 when  he umpired the TAC Cup grand final. The amount of dedication and hard work that Belly has put in reflects in the quality of the umpiring performances that he's been able to consistently produce. He shows great leadership on the field, letting his experience shine through and he is an extremely reliable umpire. For this reason, Belly is one of my favourite people to umpire with because you can always back him in to be where he needs to be, when he needs to be there.
It's also no secret that Belly is one of the biggest characters on the VFL list. Subsequently, he's one of the most well-known people out on the track. From his "serious sideburns" getting a mention by the 7 VFL commentators to his general sick behaviour out on the training track, Belly always manages to find a way to make himself stand out from the crowd.
Enjoy your 150th mate. It's been a pleasure umpiring some of those 149 games with you and I'm sad I'll be cheering you on from the sidelines instead of running out on the ground with you.
Sling on, Ding
Written by Simon Blight.