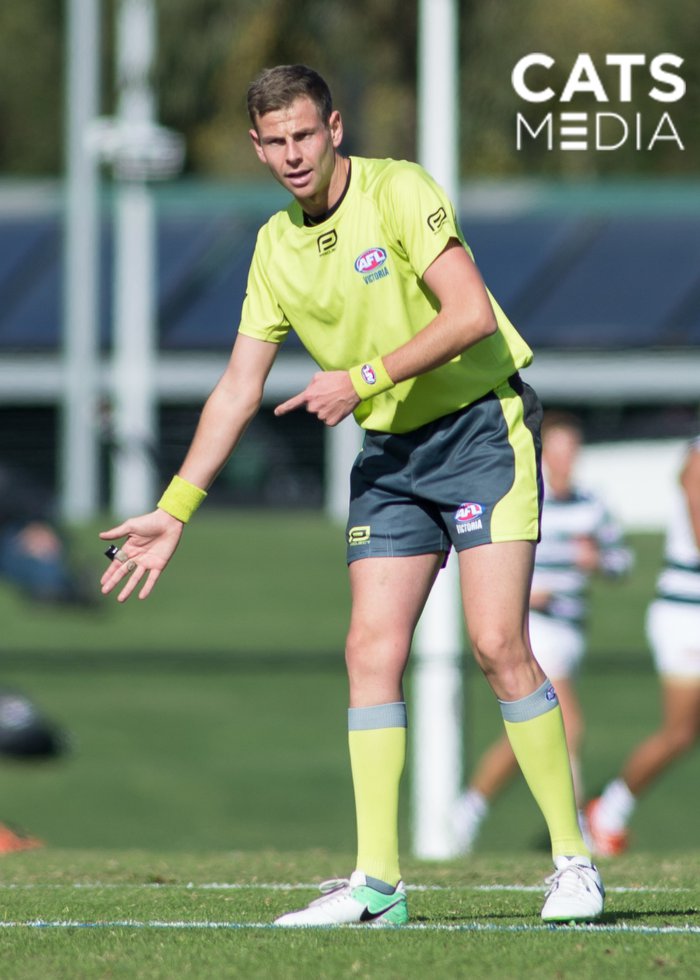 Jack Edwards: A Ton and a Half
In the early 2000s, a marathoner turned boundary coach at the Diamond Valley FL had somehow convinced his eldest son to follow suit as an umpire. A self-proclaimed fat-kid who loved basketball, picked up the whistle and took to field umpiring instead of the boundary in 2004 because "It paid more and you ran less." Fast-forward almost 20 years and Jack Edwards is notching up game 150 in the VFL!
This sort of milestone, that has only been reached by 13 others before him, is significant to everyone in their own way. For Jack, it acknowledges 10 years of umpiring State League football and 10 years of good mates, good times and lots of enjoyment. "Not many get there so I'm very lucky. It signifies the story I'll have when I move away from the game," he explained recently while chowing down a cheap $19 steak.
When you've umpired that many games, many of them blur into one, but for Jack, there was one stand out – The Lock-out Game.
That game was the 2014 Preliminary Final at North Port Oval. It was Port Melbourne and Footscray. The crowd was that big, they had to lock the gates. "The atmosphere was electric. Scores were level at the 21min mark of the last quarter." It's no wonder he went on to be appointed to the VFL Grand Final the following week.
In amongst his 10 years at State League level include 2 years on the AFL list. He may have only notched up 11 games, but those 11 games have left that hunger to climb back on to that list. His AFL debut, Melbourne vs Hawthorn in round 7 of 2015, also left a couple of memorable moments. He had a dreaded score review in the first quarter when David Hale took a towering mark on the behind line. But the biggest accomplishment is flooring Viv Michie.
We all know being an AFL umpire has it's perks, and Jack took full advantage when he told the story of being appointed to a game on the day of his engagement party. "I spoke to Mel to see if she would be able to get everything ready so I could have a crack that night. So I organized dad to go and get the car with 10mins to go in the last quarter and go wait at the Moorabool St entrance for when the siren went. I was in the car and on the highway when the theme song was still playing."
Jed's journey hasn't been all smooth sailing. He reflected on his first couple of years on the Development Squad. "2010 I did ok. I went backwards in 2011 and was warned that a return was not a guarantee in 2012." Jack made sure it was a certainty but having a big preseason which resulted in his VFL debut in round 1, 2012.
"The footy was good back then and umpiring was much simpler. We are more professional now and follow better preparation practices. We can over-analyze sometimes but the VFL has much better exposure."
When asked about some of the best umpires he has graced the field with, he premised his answer with "I'm going to leave good people out here." From a developmental aspect, he named Brett Rosebury and Shaun Ryan as two. They happened to be his exact teammates in his AFL debut. When it came to an umpire as teammate and having fun, it was the infamous Daniel Butcher. As one of the veterans now, Jack also acknowledged the enjoyment of umpiring with the younger umpires coming through the State League system.
It's not just umpires that Jack has come across. He named two players from opposing clubs as two of the best players he has seen at VFL level. Toby Pinwell from Port Melbourne and Ben Jolley from Williamstown. "Toby played hard, but he also respected you once he got to know you. But Port and Willy back then were stacked. Whenever they played each other, you knew it was going to be on."
For Jack, there has always been one constant support – Papa Craig. Craig has gone from father to Jack's biggest critic. What Jack values is the fact that Craig, as a respected boundary umpire and coach in his own career, often provides feedback that is on par with the official coaching. For this reason, even when Craig says Jack has had a shit game, he knows he is getting an honest point of view.
10 years at the State League level provides perspective and wisdom. For umpires aiming for the State League, or even aiming for the senior squad, Jack's advice: "You need to understand that you'll need to make sacrifices, you'll have to work hard and the journey will be hard sometimes. But whatever you put in, you get back times 10 with mates, the footy and the experiences, all of which shouldn't be taken for granted. Being a State League umpire is not a right of passage. The position needs to be respected and earned."
It's been a privilege being part of Jack's journey from the good ol' DVFL days to now. Not just as an umpire, but getting to know his immediate and now own family in Craig, Pina, Matt, Mel and Mable. Everyone in the VFUA congratulates you on your journey and all your achievements to date and we are all hoping to see many more achievements!
And one final message for his younger self starting to umpire for the first time…
"Umpiring is a rollercoaster with highs and lows. The between times are the bulk of the ride. Enjoy the ride and be proud to be an umpire."