When VFUA Life Member David Dixon steps onto the MCG to officiate the St Kilda vs Collingwood game on Saturday, he will be officiating his 338th AFL game, the most of any VFL/AFL goal umpire in the history of the game.
David was recruited from the VFL via the Footscray District Football League.  He umpired in the VFL from 1995-1997 officiating in 20 AFL Reserves games and 17 VFL games including the 1997 VFL Grand Final.
David was a member of the VFUA from 1995-2004, an Associate member from 2005-08, a member of the social committee in 1996, Communications Officer in 2003 and 2004 and was awarded life membership of the VFUA in 2004.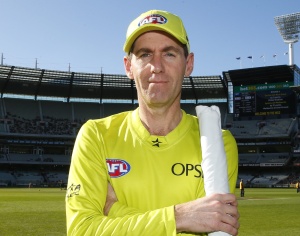 His record with the AFL includes 337 matches (32 finals including the 2000, 2005, 2009, 2010, 2010(R), and 2011 AFL Grand Finals.  
The VFUA would like to acknowledge and congratulate David on his fantastic personal milestone and wish him all the best for the game!