The VFUA's annual life members' dinner was held on Sunday 29 May at the Mail Exchange Hotel.
One of the most anticipated events on the social calendar, the dinner provides the VFUA with an opportunity to continue to recognise the contribution of our most esteemed members. It is always a great opportunity to discover what old friends are up to, with most still retaining a connection to umpiring in some form or another. Conversation more often than not found its way to footy – with discussions ranging from the state of the game today, to tales of yesteryear.
The group also noted the tragic passing of VFL field umpire observer Greg Sidebottom earlier this year. Greg's contribution to both umpiring and the careers of VFUA members was considerable, and he will be sorely missed.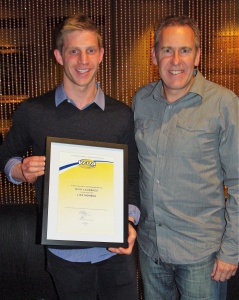 The formal side of the evening included an update on the current operation of the VFUA as well as the induction of two new life members by President Michael Curtis. Steve Piperno and Nick Laurence were both presented with honorary life membership recognising their contributions to the VFUA over a number of years.
Amongst other achievements Steve Piperno managed a working party to develop a new agreement to cover employment conditions from 2014-2016 and was involved in negotiating new arrangements for the introduction of women's football as part of AFL Victoria. As President in 2014, Steve focused on forging a good working relationship with Cameron Nash in his new role as umpires' coach and enhancing closer relationships with senior personnel at AFL Victoria and with other state league associations. He also proactively managed and led a new executive team and was responsible for technology innovations to better communicate with members. He was also responsible for the launching of the VFUA's strategic plan, Striving for September 2014-2017, for the delivery of the planning objectives for 2014.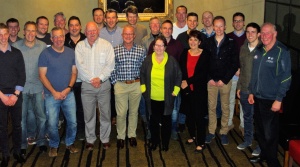 Nick has always been a strong advocate of the VFUA and always had a concern for the welfare of umpires. He joined the VFUA executive committee as Boundary Umpire Track Representative, a position he held in 2010 and 2011. He was also instrumental in providing a strong voice for the boundary umpires as an integral member of the Fees and Conditions working party for the 2014-2016 negotiations.
Steve and Nick are both thoroughly deserving of this recognition, and the VFUA wishes both of our new life members all the best as the continue on their umpiring journey.
The VFUA would like to thank both the Mail Exchange Hotel and our fantastic life members for an excellent evening, and we are looking forward to our next dinner in 2017!