Nick Laurence will become the first boundary umpire to earn life membership of the Peter Jackson VFL when he officiates in his 175th senior match in Round 17.
The 31-year-old was given a choice of which game to bring up his milestone in and decided to run the boundary at the iconic Victoria Park – also an umpire training base – for the clash between Collingwood and Geelong on Saturday.
Laurence started his umpiring journey as a high-school student in the Diamond Valley FL (now Northern FL) in 1999 and moved through the ranks until he graduated to the VFL umpires squad in 2004.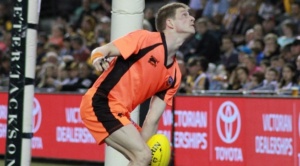 After some testing early years, Laurence's hard work culminated in earning selection for last year's senior VFL Grand Final between Williamstown and the Box Hill Hawks at Etihad Stadium.
"I've had a fair few highs and lows," Laurence said. "I've been lucky enough to do three Development League Grand Finals and a couple of TAC Cup Grand Finals, and last year culminating in getting the big one and doing the senior Grand Final. It was such a feeling of reward for effort.
"But clearly the standout trait to get to 175 games is resilience, because you do get those kicks in the guts along the way – times when you think you're travelling pretty well and the cards don't fall the way you'd hoped."
Laurence said he'd also relied on a "sound, even-keeled nature and mindset" to deal with criticism and a professional approach to his physical preparation to help him reach a rare milestone.
"To be any kind of sporting official, I think you've got to have that thick skin," Laurence said. "You've always got fans and players who are looking to share a difference in opinion from the decision you've made if it's a tough call.
"You can't probably downplay the physical preparation side of it as well. While we might not necessarily call ourselves elite athletes or professionals, umpires are really not too far off it."
Article provided by www.vfl.com.au