Sunday 14 August saw the gathering of former VFUA presidents at the fifth biennial Presidents' Dinner. This year the event was held at L'altro Mondo restaurant, Albert Park.
A good turnout of both presidents and current Executive members meant space was at a premium but created a vibrant atmosphere where old acquaintances were renewed and memories shared among the 12 former presidents: Steven Stirling (2000), Chris Snell (2001-02), John Russo (1993), Steven Piperno (2014), Russell Davidson (1999), Greg Russo (1998), Rob Findlay (2006-07), Greg Kennedy (1996), Richard Mills (2010-11), Adam Wojcik (2008) and Daniel Butcher (2015).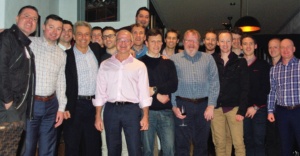 In the absence of 2016 VFUA President Michael Curtis, immediate past President Daniel Butcher introduced Executive Officer Peter Kelly who laid out various aspects of association affairs to update those in attendance. From the positive 100% membership and the beginnings of partnerships with different companies to the disappointing difficulties around the association's relationship with AFL Victoria and recent industrial issues. Anthony Black responded on behalf of the presidents expressing their thanks for the opportunity to remain involved and providing best wishes for on-going activities.
The dinner gives the current Executive a chance to chat with those who have held offices before them and perhaps glean some insight into where the association has come from in an administrative sense and conversely it gives a great chance for the presidents to get an idea of where the VFUA is going.
An indication of the importance the former presidents place on their involvement in umpiring is that almost without exception they are or were involved in some sort of umpiring or football commitment well after their direct involvement at VFL or VFUA level – although Richard Mills is still waiting for any post-retirement offers.
Our thanks go to the staff at L'altro Mondo and to the presidents for their on-going support and advice.