Chris Doyle caught up with Dean Jones before his 200thmilestone game at Adcon Stadium (Port Melbourne v. Essendon, 23 June 2019) to reflect back on his fantastic career and journey towards 200.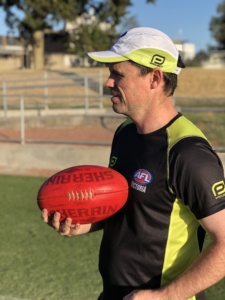 200 games participation in any sporting or official endeavour is a feat nothing to be sneezed at, let alone umpiring 200 games of VFL Senior football. So, the fact that this weekend we have the 3rdever individual to reach this milestone is a feat to be congratulated and feted upon. It is somewhat ironic that the umpire who reaches this milestone, Dean Jones is one of the more quietly spoken and unassuming people you'll meet in umpiring. Deano, who takes the goals in the Port Melbourne v Essendon match at the Adcon Stadium this Sunday definitely puts the 'quiet' in quiet achiever, but one can be assured that what Deano lacks in amount of words spoken, definitely makes up for in determination and application. It was a pleasure to catch up with him this week to discuss the impending milestone:
Deano, this is not the 1sttime you have reached the double ton. Who could forget your epic 210 against India at Madras in 1986-87…whoops wrong Dean Jones. What I meant to ask you is you obviously have had a range of experiences in your 200 games. What game would you say sticks out as your favourite game?
I'd have to say my favourite game was a final I did in 2005 which was Tasmania vs the Northern Bullants, which I umpired with my current coach Brad Letson. It was at Bellerive Oval, and there were 11,000 locals in attendance. They were extremely loud, until they started to get belted (Northern won by 73 points) and they all went off home
What would be your favourite thing about umpiring VFL football Deano?
My favourite thing about umpiring at the VFL football is simply going to training each week with all the guys. We have a great group of umpires in the senior squad, and the constant banter and back and forth between certain members of our group makes the whole experience really enjoyable
And what would be your least favourite?
A thing I'm not overly fond of is having to get to games 90 minutes before. It can feel like forever if there is no curtain raiser on beforehand, and you run out of things to talk out about with the bloke you're umpiring with pretty quickly
You've been on the list since 2002 and you would've seen a heap of changes in your time at the Project Clothing centre. What would you say has been the biggest change?
The biggest change would definitely be the increased scrutiny from observers. When I started doing senior footy there would only be 3 or 4 senior games getting observed each week. However now all our games are getting observed either at the ground or on the video each week. There's definitely nowhere to hide
And finally, who would you say you have been your favourite blokes to umpire with?
Yeah, in no particular order I would have to say I've enjoyed umpiring with current umpires such as Simon Plumridge (Deano's partner on Sunday) and Chris Doyle, and some blasts from the past such as Lloyd Fisk, Michael Richardson, and Jeremy Grey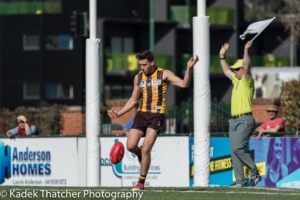 Deano, the magnitude of this achievement is one not to be underestimated, and we all know how hard you have worked to get there. It is incredibly well deserved. Best of luck for the big day, and let's hope there are many more games to come.
Chris Doyle (21/6/2019)