Funky tats, false teeth and plenty of laughs.
The Patrick Boourns we have all come to know and love reaches significant milestone this week – 100 VFL senior games is nothing to be sneezed at, and this week Patrick joins the elite club of 100 gamers.
Raised in a small town in the north of Melbourne known as Oak Park, Pat's illustrious career started at the Essendon District football league, where he umpired the 2011 B B grade, and then backed it up with the 2012 A grade grand final between Strathmore and Greenvale. After that, in 2013, he got an opportunity on the development list at the VFL, umpiring in 20 TAC cup games before a quick rise up the ranks saw him promoted to the senior list in 2014.
Pat's career highlights include:
4 senior finals.
1 development league grand final.
2 TAC cup grand finals.
AFL rookie (2017 to current).
AFLW umpire 2018, 2019.
Having part of Footy Classified's 'Say That Again' dedicated to him burping over match com during a TV game.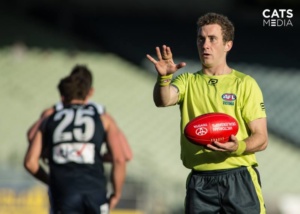 Although a long list of awards throughout his tenure, Pat recalls his two best moments of his career so far. One of which was umpiring the 2011 EDFL B grade grand final with his brother, while his other was being told that he was still in nappies by a Geelong supporter in his first year on the senior list. We'd probably think the latter is the lesser of the two achievements. With the ups of umpiring, Pat has also recognised a few of the lesser moments in his career. When I spoke to him, he said "one of the worse moments was finding out we have to be clean shaven every week, because I reckon I would look pretty good with a moustache", something we don't doubt Pat.
Pat's talents stretch far beyond the umpiring capers. He is currently an apprentice carpenter, often seen setting up frames and hammering nails into wood. He also has a gentle side, which he shows through the appreciation of his doggo Roxy. There is a lot more to write about Pat, but I would be here all day.
What separates Pat from a lot of others is his endless energies and positivity he beams. From the humour and joy he delivers us around the track and on game day, to the calm and composed actions he takes after paying a mark from a handball, we wish you all the very best in your 100th senior game.
You can catch Pat in action as he umpires the Coburg v North Melbourne match at 12.30 this Sunday at Piranha Park, Coburg.