Over the off-season, goal umpiring legend Anthony Kyrkou retired after a stellar VFL career. The VFUA sat down with Ant to learn a little more about his 9 years at the VFL…

Anthony Kyrkou decided it was time to hang up the flags at the end of the 2016 season following 145 VFL Senior Matches, 28 Development League Matches and 23 TAC Cup matches. Kyrkou umpired at the VFL from 2008 to 2016, including two VFL Senior Grand Finals in 2010 & 2011, two TAC Cup Grand Finals in 2012 & 2015 and 15 VFL senior finals. It was not all about umpiring for Kyrkou, having also spent two years on the VFUA executive in 2010 & 2011.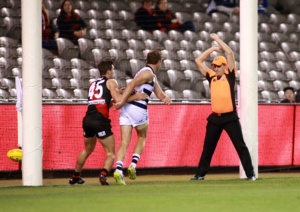 Starting his career at Victoria Amateur Football Umpires in 2005, Kyrkou wanted to learn a new skill for his school Duke of Edinburgh award, so he took up goal umpiring and never looked back.
The VFUA recently sat down with Anthony to shed some light on his career:
How did you get into Goal Umpiring? I started in the VAFAUA in 2005 before going to the VFL 2008. My Dad played cricket with Chris Doyle (current VFL Goal Umpire) and he was umpiring so I went down with him. Still to this day I am really good friends with Doyley.
First umpiring memory? In one of my first matches I gave a touched signal for a behind that was actually a goal after the player told me they touched it. Later in the match current AFL field umpire Rob O'Gorman said to me "You don't let the players tell you the score". I learnt a lot after my first match.
Career highlight? Put aside the 2 VFL senior grand finals in 10 & 11, my 100th VFL senior match was a highlight at Punt Road with good friend Steve Piperno at the other end and my family there to support me.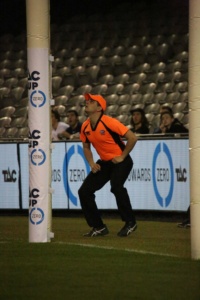 After Umpiring? Work has been keeping me very busy, plus I am currently completing my masters in engineering. Hoping to focus on my cricket career and potentially play first class cricket for Victoria, I have a big chance after my career high 302 a few years back.
Best Coach? Andrew Barns (VAFA), he taught me a lot and helped me get to the VFL.
Best Umpire? Alistair Kyrkou (Brother), he had a lot more talent than me but unfortunately had to give it away due to moving interstate for career purposes.
Funniest Umpire? Adam Gardner – say no more.
How was the first offseason in 9 years? It only feels like 2016 finished the last week as work and cricket has kept me busy. Overall it has been quiet, nothing full on as running 1350km during the offseason.
We wish Anthony a happy and successful career outside of umpiring. Thanks for everything you've given to the VFL and VFUA Ant!