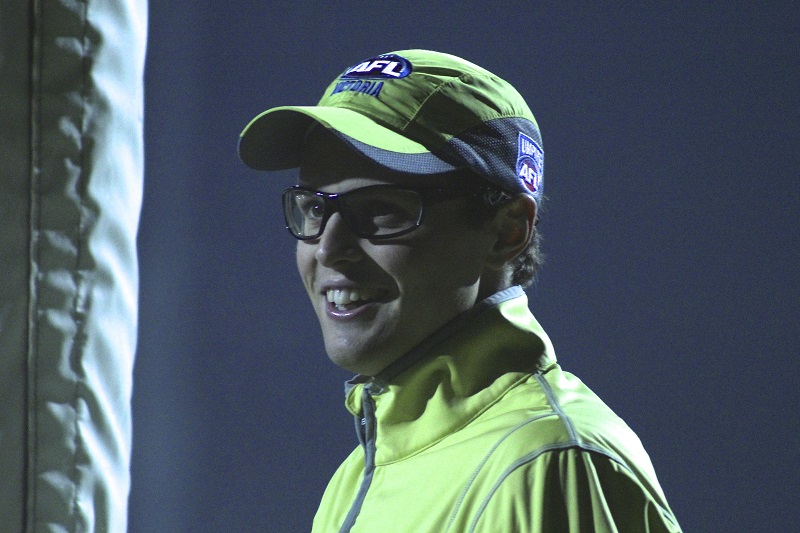 Saturday 7 April saw Sam Walsh take to the field to umpire in his 100th VFL game Frankston vs Essendon.
Reaching 100 for Sam hasn't been exactly run of the mill. The start of 2013 took a turn and saw Sam succumbing to glandular fever, which took him out of action for all of the pre season. Many on the track admire Sam's resilience, fitness and work ethic for bouncing back and achieving what Sam has today.
Sam has officiated in two TAC cup grand finals (one being in his second year listed!) In 2012 Sam was awarded with the best first year goal umpire, followed by 2013 the most improved senior umpire. It's also worth mentioning that 12 of these games have been VFL finals, which is a reflection on the kind of umpire Sam is.
So why not get into Sam's mind, and find out what really makes Sam tick…
How did everything start? What got you into footy?
I always loved footy as a young kid. My brothers and I would often kick the footy in the backyard and I often played at lunchtime with my friends throughout primary school. I played over 140 junior games, but got into umpiring at age 14. I started to notice the umpires more and more at the AFL games I attended or watched on TV and thought it was something that I would be really interested in. My passion for umpiring really grew from that point onwards and after I'd umpired my first game in 2007, I knew umpiring was where my true passion in footy was.
You started in 2013 and were elevated in 2018. How would you describe your time at the VFL?
My time at the VFL was amazing. You know you really enjoy something when you look forward to training each and every week. The atmosphere that we were able to create, enjoying each other's company, made the umpiring experience really special. Then relationships built between the umpires were always very special. The time, energy and commitment the coaching staff spent on all of us across my six years spent at the VFL was amazing.
What's your best memory of umpiring football?
I have several on field moments that I won't forget, but my absolute favourite moment came after the final siren of last year's VFL grand final. When Simon, Callum and I were sitting in the rooms after the game, the feeling that was running through us is just about indescribable. Knowing you've just been part of a thrilling grand final that was decided after the siren, we couldn't wipe the smiles off our faces. The energy running through me was still at a high level until about 30 minutes after the game. In no other industry do you get that energy running through you like that.
You broke your finger this year. Does this still mean you have the longest signalling finger on the list? How did this come about?
Haha! I'm not sure about the longest on the list… but they'd be up there!! One week before round one (cricket season!!), I was doing some routine catching practice. I got a ball on the end of my middle finger (If only it was shorter?), and managed to break it in five places, as well as dislocate it. We had the VFUA ball that night, so I didn't exactly go to hospital straight away like I probably should've… eventually, I got to hospital and got the news that I'd be missing the entire cricket season as it's a six month injury!! Unbelievable scenes…
You have a few pre game rituals and routines; please enlighten us….
I always bring a subway sandwich to eat beforehand, although I've been constantly reminded for the last four years or so that I have stolen this from Dylan Benwell… I can say, hand on heart, I am not guilty of this!! Other than that, I like to have an iced coffee before the game as well. I'm also normally quite talkative, but you'll notice with about five minutes to go until walk, I become very quiet!!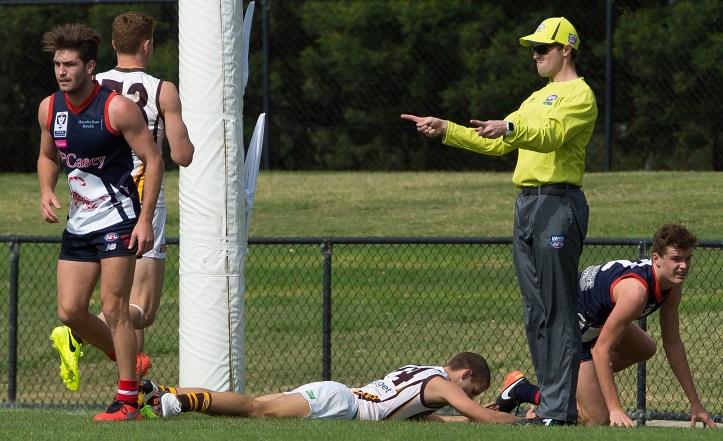 So….Lets learn more about what you'd prefer:
Make your girlfriend pay for an uber/or make her pay you?
Agwa lemonade/Cointreau soda?
Middlesbrough / Melbourne City….BOTH!
Steve Smith / David Warner
Sam Walsh / Sam Martin
Sam, you have been an integral part of the culture we have now introducing the Walsh games which tradition is going strong 3 years in. We all congratulate you on your 100th game milestone and wish you all the best with your upcoming season and cant wait to watch you go from strength to strength.
RAISE THE BAT!  S.WALSH 100*