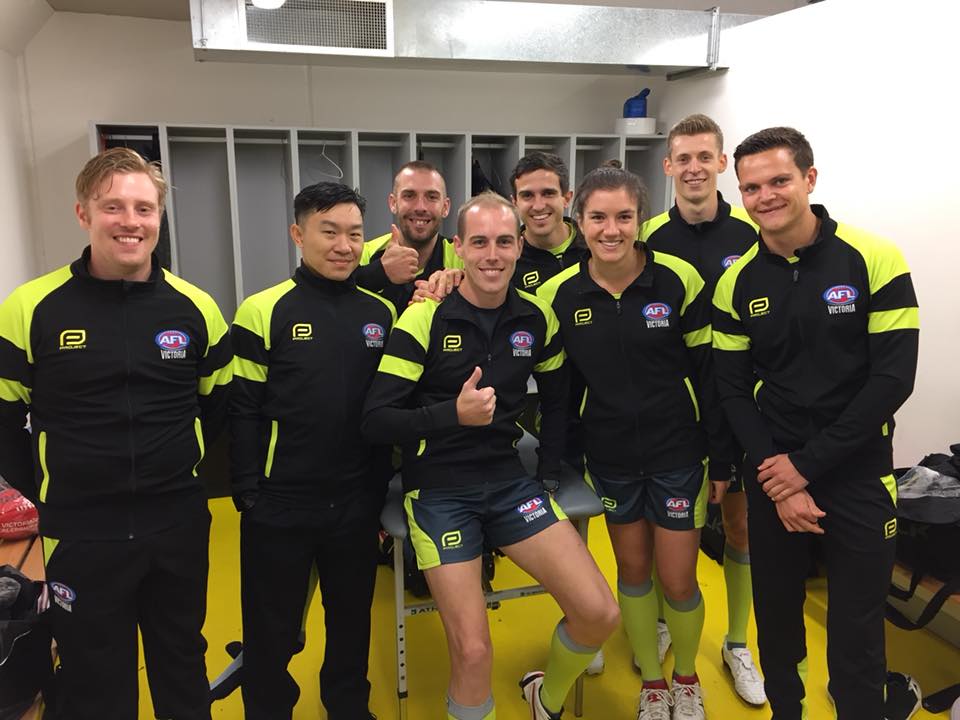 When asked to put together a bit of a summary of his career (thus far) to commemorate his 100th VFL match, my first thought was as if its 100 games already.
Having commenced with John back in 2011, I have had the great pleasure of witnessing hard work and dedication paying off. Long gone are the days of scraping through a time trial/skinnies, and to see him now as a great leader on and off the track is just fantastic.
If there was a ever a figure used for describing taking the P155, Johnny is a lock. We've all heard the stories of a signature Johnny moment:
Doing a back flip on the boundary

Making a decision whilst literally on the ground, he says it was correct (I'd say its questionable)

Giving players fend-offs around the interchange gates, (despite giving away kilos and meters)

Being unable to maintain a consistent cadence without surging 

Nailing bin throw ins, (when no one is watching)

Winning a pro running Mile race at Rye (again no witnesses)

And many, many others.
Another testament to Johnny's character is his ability to cop decisions on the chin. Having back to back prelims with reviews (not going his way) would give anyone cause to really filthy, dirty up and not speak to anyone for weeks/months. But to his credit, Johnny sucked it up, broke land speed records in 200s and by then end of the session was all smiles and back chatting with everyone.  
I remember preseason 2011, running a reserves match on some back street ground with both sides at quarter strength because they apparently all had a "massive night". All preseason we had been preached about the jump from local, and to see blokes that couldn't walk let alone run straight, really did leave us questioning what the hell we had gotten ourselves into.
I'm sure I speak for everyone when I say that your career to date has been a pleasure to watch, and I know personally has driven me to push and reach my own goals.
All the best for this weekend, the rest of the season and hopefully another successful finals series.
Cheers, Vice Skip