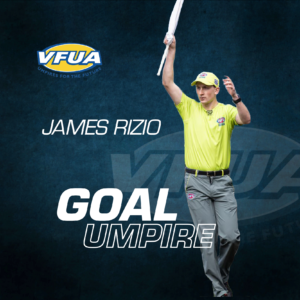 VFL Senior Goal Umpire – James Rizio
First started umpiring with?
Eastern Football League (EFL) 2016
What made you take up umpiring?
Being able to have the best seat in the house, the money on the side helps too!
Career highs or lows?
High: Umpiring at Port Melbourne in September, loved every minute of it
Low: Bird flap in VFLW Prelim 2018 (My only one too…)
Most memorable umpiring moment
Umpiring the International Cup 2017 Grand Final on the MCG with Frank Dicosmo
Most forgettable umpiring moment
Getting hit in the you know whats (wasn't a warm day either)
Most influential coach/mentor in umpiring?
David Dixon (No surprise)
Best advice given to you early on in your career?
It's important to umpire with enjoyment, don't be too hard on yourself
Most influential fellow umpiring peer?
Thinking Simon Plumridge but then he ditched us to go to AFL, no biggie….
What do you like most about being an umpire?
Being part of a really high standard of footy, seeing it first hand
What can you not go without doing on match day?
Ironing flags the night before is key, whilst on match day always changing into on field gear with 30 minutes to walk
Favourite sport besides footy?
Cricket
What's your best sporting experience outside of footy?
Touring the UK for cricket in 2015, 2017
What's your occupation/day-job?
Freelance Graphic Designer also during cricket season I do curating
Favourite food?
Pasta as its very versatile, a Parma is a close second
Favourite movie?
Ferris Bueller's Day Off
Favourite artist/band?
Oasis
3 people you'd like to have dinner with
Chris Appleton, David Dixon, Brad Letson (I just loved goal umpiring)
Favourite holiday destination
Perth (very underrated city)
Most admired person, why?
Tie between Mum and Dad, can't decide. Always when I leave home for a game I hear "Do your best and have fun".