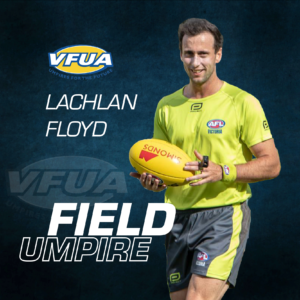 Lachlan Floyd – Senior Development Field Umpire
Lachlan Floyd (Floydy) is one of the most selfless people I know. You will discover reasons for this throughout the profile below, but to just give you some context, before we had this chat Floydy had finished recording a podcast called "Blokes Don't Talk", a podcast about men's mental health in which he was a guest. Give his disability services business "Ohana Services" a follow on Facebook, there is a lot of heart-warming content.
First started umpiring with?
Sale umpires association. Started in 2007 as a boundary for two years, and was close to quitting. One day, however, I got the call up to do the field as the field umpire hadn't shown up. I must have done a good job because the next week I was called up to the seniors, and my umpiring journey went from there.
What made you take up umpiring?
All my mates from school were taking it up and I wanted money.
As an aside: Floydy played interleague football himself in U/16s and U/18s. He earned an automatic invitation to trial for NAB League club Gippsland Power however declined as he enjoyed umpiring more. He played with Shannen Lange (Port Melbourne VFL) and Will Hams (Essendon AFL).
Career high?
Career high was making the list in 2017.
Most memorable umpiring moment
Umpiring on the MCG.
Most forgettable umpiring moment
First year VFLW game at Casey, I backed out, hit a player and totally stacked on my arse.
Most influential coach/mentor in umpiring?
Ken Wagner and Nick Cullis. Started with them doing green-shirt program.
Best advice given to you early on in your career?
'Blow it loud and strong'
Most influential fellow umpiring peer?
I can't limit it to one. First off is Nick Cullis who started with me. Next is Brayden Hunter who constantly calls me to have a chat on the long drives home to Sale, he is always asking how I'm going (interviewer note: bit of a bromance going on here). Finally Matt Mahoney for his leadership amongst the development field umpire group.
What do you like most about being an umpire?
Challenges. Training, coaching and game-day. I love that nothing is easy.
What can you not go without doing on match day?
For those who are not aware, Floydy lives in Sale, which is at least a 3 hour drive from our Vic Park home base. To give you can idea of his routine for getting to training every Tuesday and Thursday night from January through to September:
Always packs his bag the night before.
Midday: Finish work. Come home, grab bag, get changed and scoff something down to eat quickly.
1:00: Leave Sale for the drive to training.
4:00: Arrive at Vic Park. Either have a nap or go for a quick walk. Always try to be the first person in the door when it opens at 4:45.
Getting home: Floydy normally gets home at around 11:00, which includes a stop off at Officer to get something to eat and some coffee to keep awake.
GAME DAY:
I always have to get there two hours before, first thing I do is change into the AFL tracksuit pants. Then I tape my whistle onto two fingers, put footy boots on, and get out there for a warm up. I never do a warm up without my footy boots on and whistle taped to fingers.
Favourite sport besides footy?
Split between cricket and boxing.
What's your best sporting experience outside of footy?
Travelling to England to play cricket for 6 months when I was 19. Played in the 1st XI at Prestbury Cricket Club in the Cheshire League. I opened the bowling, and I also told them I could bat as well as all year I batted at 3 or 4. In Australia I rarely bat in the top 6!
What's your occupation/day-job?
Business Owner of Ohana Services (give us a follow on Facebook).
This is a service for people living with disabilities to help them achieve their goals in life.
I started Ohana Services in 2018 after working for a similar disability services organisation, and deciding that I wanted to create more opportunity for people with disabilities and give them a choice.
Favourite food?
"Is Great Northern a food".
In all seriousness my favourite food is capsicum.
Favourite movie?
The Hangover
3 people you'd like to have dinner with
Donald Trump, Xi Jinping and Conor McGregor. Would be good also to have Kane Cornes and Tex Walker as the wait staff.
Favourite holiday destination
Airley Beach, Queensland. Especially with Sam Ferguson and Brayden Hunter (spud).