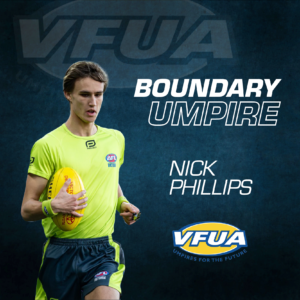 Nick Phillips – VFL Senior Boundary Umpire
First started umpiring with?
Northern football league
What made you take up umpiring?
Was pretty shit at footy but still wanted to be involved
Most memorable umpiring moment
Umpiring in front of 53,000 at Adelaide oval for AFLW grand final
Most forgettable umpiring moment
There's a few of them, Beach road is one
Most influential coach/mentor in umpiring?
Vittas or Fozzy
Best advice given to you early on in your career?
Being the best umpire isn't just about how good you are at running
Most influential fellow umpiring peer?
The goat (Kieran Ferguson)
What do you like most about being an umpire?
Getting to be involved in football without getting smashed playing
What can you not go without doing on match day?
Coffee, bacon and eggs. My list is kind of long
Favourite sport besides footy?
Cricket
What's your best sporting experience outside of footy?
Running at nationals on the track
What are the benefits of being a VFUA member?
Going to the VFUA Ball
What's your occupation/day-job?
At the moment student but will be a teacher
Favourite food?
Maccas chicken nuggets
Favourite movie?
The lion king
Favourite artist/band?
Hilltop hoods
3 people you'd like to have dinner with
Nelson Mandela
Michael Jordan
Israel Adesanya
Favourite holiday destination
The Gulag
Most admired person, why?
Mo Farah because he has a professional mindset and he continues to develop and work hard.