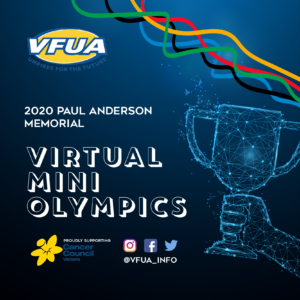 2020 Paul Anderson Memorial "Virtual" Mini-Olympics
4th May 2020
The time has come for us to officially launch the 2020 Mini Olympics.
Due to the current circumstances, we will be doing things differently & conducting this years' events virtually.
Support our Victorian umpires, watch them battle it out for the Paul Anderson Memorial Shield & donate to a great cause – Cancer Council Victoria.
• Events begin 4th May, winning squads will be posted after each event is completed over the next 5 weeks.
• To register your donation visit our GoFundMe page http://gf.me/u/xyx6r7
• To read more about the Paul Anderson Memorial Shield visit http://vfua.net/?page_id=70
GET ON BOARD! 🏆🏆