A Marathon Effort on a Tennis Court
Life Member Russell "Rusty" Davidson
In normal times, Easter Monday was reserved for recovering from family gatherings, eating and drinking too much and plonking oneself in front of the TV for a footy game at the G.
In 2020, school holidays were different with many restrictions in place and families struggling with things to keep their children entertained.  Former VFL umpire and VFUA President Russell Davidson, with 3 children, set them a challenge.  Run a marathon which is a combination of 605 laps of the backyard tennis court in 2 weeks and he'd run a marathon himself.
Suffice to say they didn't get anywhere near meeting the challenge, so Russell decided to do it himself on Easter Monday.
Had he prepared?  According to Rusty, "Ah no."  He was planning to run the Melbourne Marathon in October so had been doing a bit of training but certainly nothing that had prepared him for a marathon.
He described the experience of running 605 laps of his tennis court as certainly different. "There wasn't a lot of change in scenery."  Rusty set off at 7am and had his kids there for the majority of the time, counting laps, playing loud tunes, running with him and shouting encouragement.
The toughest part was the constant twisting and turning.  Rusty admits his knees, back and hips took a pounding, "A regular run through the streets is generally in a straight line so you can build up a bit of momentum.  No such chance on the tennis court. A few strides and it's time to turn again."  He says mentally he was fine and that he changed direction every 50 laps and made sure he walked a lap every time he turned around.
Having no time pressures meant he could take as long as he liked. He was pretty determined so there was no way he wasn't going to get it done!
Initially he pulled up pretty sore, particularly in the lower back and legs.  However, unlike other marathons he has run, he was back up and running a few days later and felt fine.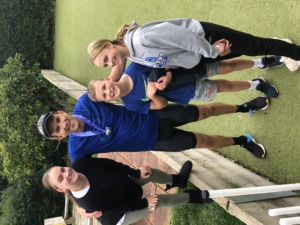 This was Rusty's fifth marathon.  He has run two Melbourne marathons with a PB of 2.50 in 2003, one in Sydney and one as part of the Australian Ironman in 2016.  He admits his backyard marathon was harder than any of his previous marathons although the pain he experienced in the ironman does compare.
He still has his ambitions set on running the Melbourne marathon in October this year, however he thinks it might fall victim to COVID-19 restrictions.  Otherwise, he will be busy umpiring in the APS/AGSV school boy competitions and coaching the VAFA Senior field umpires later this year.
Congratulations Rusty on a 'marathon' effort and we wish you continued success in your coaching and running endeavors in the year ahead.