Senior field umpire Tim Carlos retired during the 2017 preseason after an impressive VFL career. The VFUA recently caught up with TC to learn a bit more about his 8 years at the VFL…
---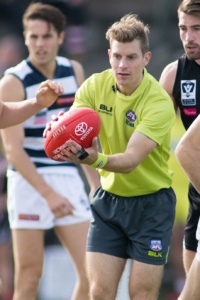 In his VFL career Tim umpired 95 VFL Senior Matches (including 9 finals), 26 Development League Matches and 29 TAC Cup matches. Tim umpired two VFL Development League Grand Finals, 1 TAC Cup Grand Final and was emergency umpire in 1 VFL Senior Grand Final.
We sat down with TC to ask him a few questions:
How did you get into umpiring?
I used to play footy but was pretty small so got thrown around a bit! My uncle started umpiring in the local competition (Eastern Football League) so I tagged along with him to see what it was about. Thought it would be a good way to earn some pocket money. I will most likely get back to Grassroots level at some stage this season and give back to the league that was able to provide me with my first opportunity and developed my love for umpiring. 
In your 8 years at the VFL, what was your favourite game?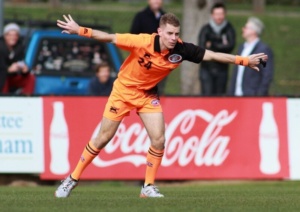 Either the 2012 TAC Cup final, it went to Golden point and was just so intense! Also, the 2012 preliminary final between Werribee and Geelong in the VFL. Geelong was cruising and up by 7 goals late in the 3rd quarter and Werribee fought back to almost pinch it. The last 4 minutes I was in the mid zone and had a lot of difficult contests but the way I handled it gave me the belief that I was good enough to umpire VFL footy.
… and what was the worst game?
After a really poor performance in a TV Game, instead of getting put back in the reserves, I got sent to Warrnambool and it was a horrible day! We arrived 3 hours early because I miscalculated the time. It was bucketing down all day and 4 degrees. The ground was just mud, and sloshy mud too so it stank. The game was 2 goals to 1 at 3/4 time and the players were literally standing there talking about all the other places they would rather be! It was a tough day at the office, but taught me the lesson of not stuffing up on TV. I rolled home at about 11pm and Kevin Mitchell made fun of me for leaving home so early!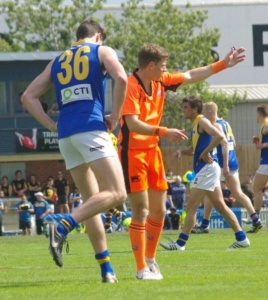 Do you have a best moment or memory at the VFL?
I think the best thing for me has been being able to share so many good times with so many different people. Being involved in the VFL was the best thing that ever happened to me and has made me a much better person. The Mad Mondays were outstanding, I always seemed to surprise a few with my form on the big stage and the social events were always great as you get to mingle with different squads and have a laugh.
I had opportunities to umpire all over the country, run on AFL Grand Final day, umpire at elite venues and be involved in some of the best footy in the country – an absolute pleasure! But better still, being able to spend 2-3 days a week with my best mates and have everyone supporting you in the team was the best thing about the VFL and credit to everyone who has helped build that strong culture. I know for a fact the people involved in umpiring are incredible, resilient and selfless people who really don't get the recognition that they deserve. The VFL has developed a culture where you put individual success second to the team's success, which is incredible. Thank you to everyone who was part of my journey!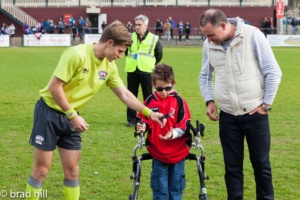 You've been an umpire for 14 years, what do you miss the most now you've put down the whistle?
When I first got to the VFL I would have never thought I would say this, but training is easily the thing I will miss the most (besides the social side, of course!). In my final year (2016) I arrived at training late and it made my year extremely difficult from a mental perspective, but thankfully the coaches stuck by me, I did extra work and I know the team had faith in me and trusted I would do what's right for the group. However, I miss the routine of training, the professionalism, the coaching and the social aspect too. I try to keep in a similar routine at home but it isn't the same without my best mates there!
… and what won't you miss?
I would love to say nothing because I loved every moment at the VFL, but probably North Ballarat in winter. Last season I did a game there where the wind was -6 degrees and it was blowing a gale across the ground. I think the quarters were all close to 40 minutes and I couldn't wait to hit up KFC on the highway home!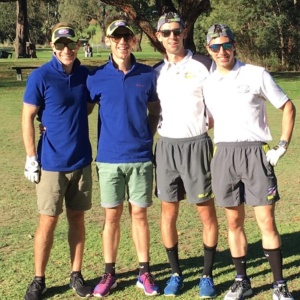 Any advice for up and coming umpires?
It's going to sound cliche, but enjoy it and try your hardest. When I started out as an 18-year old I was not committed to my training and I was not taking it as seriously as I should have. That's not saying don't have a social life or have any fun, it's saying to not take it for granted and the more you put in, the more you get out of it. It's great to see the Rookie Squad in full swing again giving young umpires an opportunity to see the training demands and mental demands, it is awesome to see some great young umpires getting opportunities at Senior level and really taking each opportunity. Work your hardest, ask questions, train not only your physical side but work on the emotional side of yourself too and enjoy it! You don't get many chances to umpire state league footy, so no matter the level, go out and enjoy it!
Thanks Tim for everything you've given to VFL football and the VFUA over the years. You will be much missed!
Rumour has it Tim is returning to where it all started – the Eastern Football League – to coach and mentor developing umpires. Good on you Tim and best wishes for the next adventure!